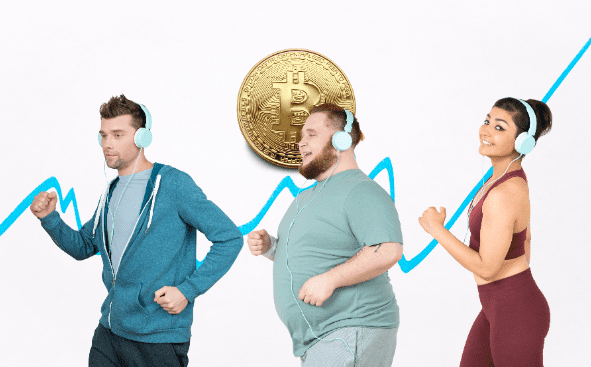 There are a number of apps that let you earn cryptocurrency by walking and exercising These  move to earn apps track your steps and pay you in crypto for reaching certain milestones. This is a list of the best apps and NFT games offering tokens for exercising and staying healthy. Some projects also provide other benefits, such as exclusive content or product discounts.
What is Move to Earn?
Psychologists have long observed that gamification of a task and earning rewards is a great way to incentivize and urge people to complete tasks and participate in physical activity.
Move-to-earn games use technology to monitor players' movements, allowing them to earn rewards in the form of crypto and NFTs by walking and exercising.
Top Move-To-Earn Games and Apps
SweatCoin
Token: SWEAT (To be released)
Blockchain: NEAR, ETHEREUM
Platforms: Android, IOS
Is Sweatcoin Free? YES
Availability: App has been released, but tokens and NFTs haven't been launched yet.
Sweatcoin is a move-to-earn app that launched back in 2015. The app uses your GPS and health tracking data to count the number of steps you walk every day, earning you Sweatcoins.
You can earn Sweatcoins for walking and running. Currently, for every 1,000 steps, you earn one SWEAT, but the number of steps to earn SWEAT is expected to increase once the token is released. This means that if you want to earn SWEAT, you'll need to walk more and more each day.
Sweatcoin predates the move-to-earn cryptocurrency craze and already has a solid userbase. You can currently use Sweatcoins to buy products on the Sweatcoin marketplace, including gadgets, workout equipment, and gift cards.
You will get 1 SWEAT for every Sweatcoin earned on the launch date.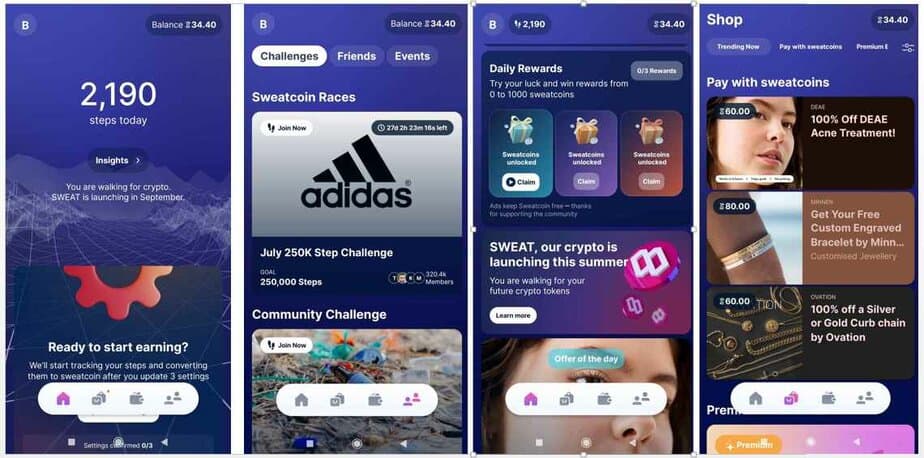 StepN
Tokens: GMT (Governance token) and GST (Gaming token)
Blockchain: SOLANA
Platforms: Android, IOS
Is STEPN Free? You will need to purchase NFT sneakers to participate.
Availability: Released, but to gain access, you must obtain an activation code (through a tricky and annoying process). 
To participate in StepN, you must purchase at least one pair of NFT sneakers from the platform.
NFT Sneakers have different attributes, such as efficiency, durability, resilience, and energy, depending on which type of shoe you need and how you intend to use it. You will have to choose the best one for your needs. However, be sure to use the right shoe to be effective for your activity. Some shoes are designed for walking and others for running. The choice will affect your earning potential.
You can collect tokens by completing everyday challenges or by spending energy, which can only be increased by moving more.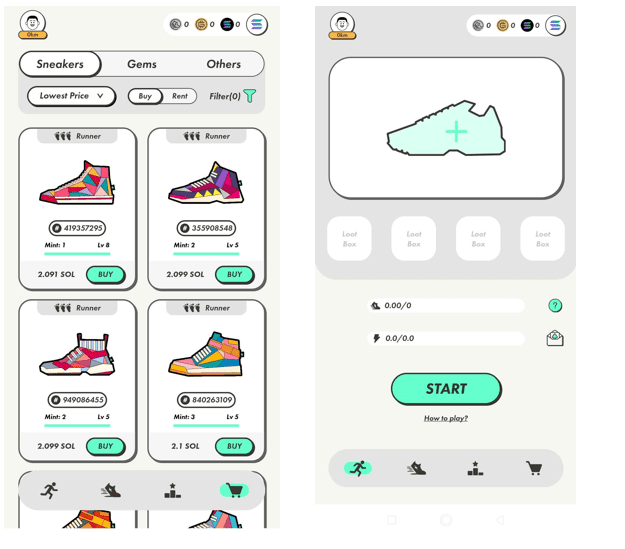 Dustland Runner
Tokens: DOSE
Blockchain: ETHEREUM
Platforms: Android, IOS
Is Dustland Rider Free? Yes
Availability: Released.
Dustland Runner is a move-to-earn project that follows a story that unfolds like a workout audio game. It rewards you for the distance that you run or walk in the real world.
Set in the late twenty-third century. Dustcaps, or runners, are assigned survival missions in Dustland, a dystopian world. You will be able to complete missions and collect rewards as you progress in the game narrative.
Dustland Runner is part of the
OliveX
ecosystem, featuring more fitness games like Zombies Run and Dustland Rider.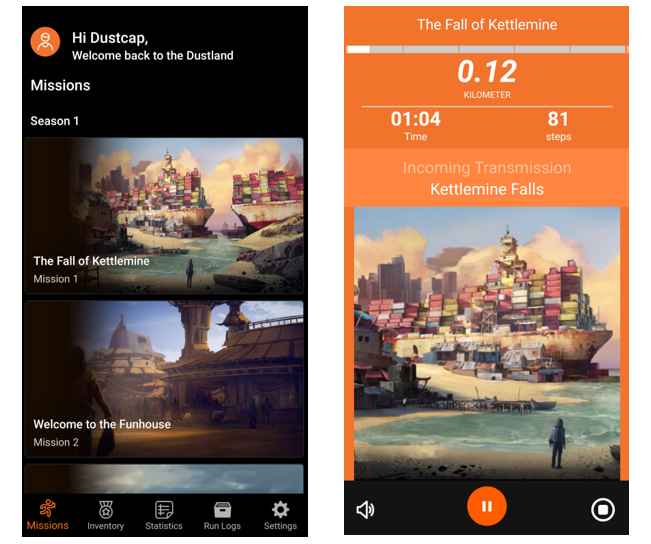 Walken
Token: WLKN
Blockchain: Solana
Platforms: Android, IOS
Is CaloFree? Yes, when they initially launch, you will be given a free, one-of-a-kind CAThlete.
Availability: Public Beta
Walken gamifies physical activity using in-game NFT characters called CAThletes. Cathletes battle against each other for WLKN tokens. You can walk and upgrade your CAThlete to improve its speed, strength, and stamina to perform better in combat. This can also be achieved by equipping it with items like clothes and gym equipment from the marketplace.
The algorithm will pair players at random where your ability to win will improve with an increase in your CAThlete level in the game. Furthermore, the number of tokens a user may obtain will be determined by CAThlete's level.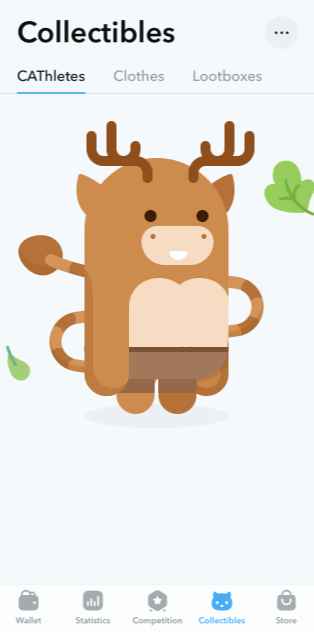 Calo Run
Tokens: CALO and FIT
Blockchain: BSC
Platforms: Android, IOS
Is CaloFree? You will need to buy NFT sneakers to participate.
Availability: Beta
Calo is very similar to StepN. Players must purchase sneakers and use them in the app to earn rewards.
The game features single and challenge modes:
In Single mode, players can walk or run to earn FIT tokens based on their sneakers and daily stamina limit.
Participants in the challenge mode form teams and compete against one another. The number of competitors and the total number of kilometers accumulated over a predetermined period of time are used to determine the ranking. The victorious team will win CALO and FIT tokens plus a limited edition NFT sneaker.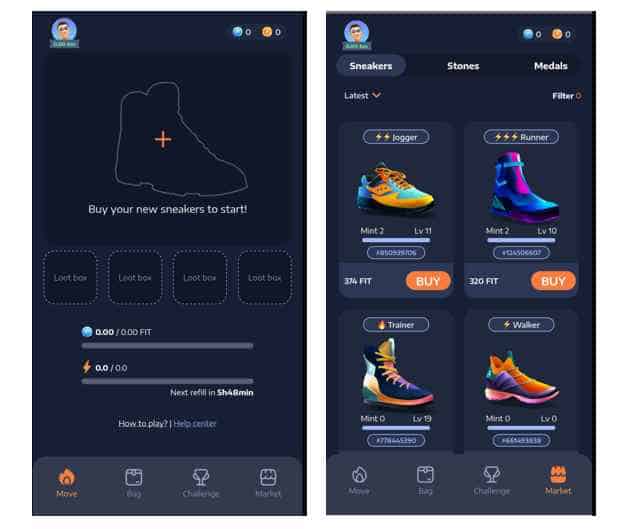 Dotmoovs
Token: MOOV.
Blockchain: BSC, ETHEREUM, POLYGON (and later POLKADOT).
Platforms: Android, IOS.
Is Dotmoovs Free? You can practice for free, but you need an NFT or MOOV tokens to get rewarded.
Availability: Released.
Dotmoov matches players competing in PvP games, enabling them to record footage of themselves dancing or playing games such as freestyle football. An AI system and a scoring algorithm detect your movement, compare it with other players and determine the winner.
The primary way to earn crypto at DotMoovs is to participate in events, competitions, and activities. This is done by doing some activity and recording it. The app will determine how skilled you are and compare you to other participants. If you win, you are entitled to receive MOOV Tokens or NFTs.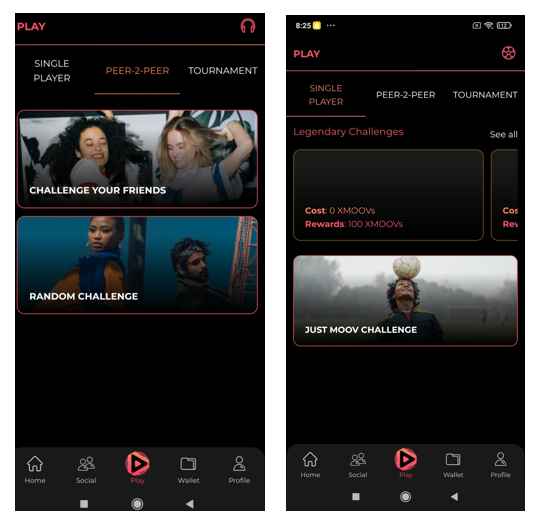 Genopets
Tokens: GENE (Governance token) and IK (In-game token)
Blockchain: SOLANA
Platforms: Android, IOS
Is Genopets Free? You need to buy an NFT to participate
Availability: Waitlist
Genopets is a pet-raising NFT game where you can earn tokens by using movement to care for your "spirit animal," which evolves as you take good care of it. You can earn more GENE tokens by caring for your "spirit animal" effectively, as your avatars behave based on your real-life movements.
Genopets are AI-driven companions that will travel with you through the Genovese. As you progress, your Genopet will accumulate more attributes, making them stronger and faster.
You can challenge friends in-game and participate in fitness challenges by tracking your daily steps. You will earn tokens, allowing you to participate in gene token staking and NFT marketplaces.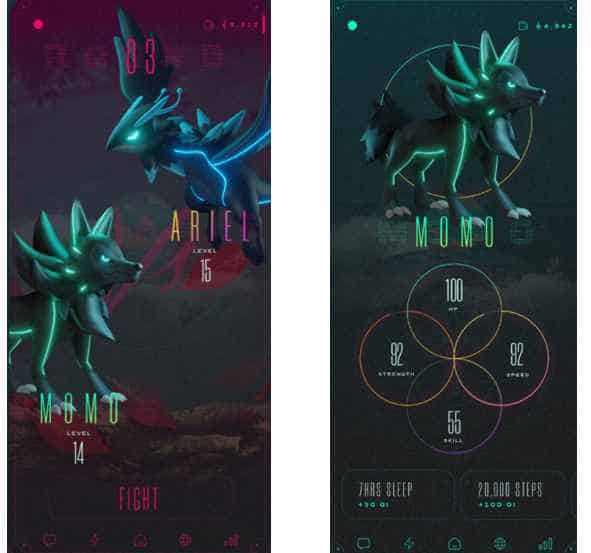 Step App
Tokens: FITFI and KCAL
Blockchain: Avalanche
Platforms: Android, IOS
Is Step App Free? It hasn't been released yet.
Availability: Private Beta
Step App is a fitness app that promises a social experience through augmented reality and gamification. Players can compete in tournaments on global and regional leaderboards to complete physical activities.
FITFI tokens and SNEAK NFTs will power the Step App's fitness ecosystem. FITFI tokens are used for governance, and KCAL tokens are in-game currencies used to buy SNEAKs earned from running while staking a SNEAK.
The app hasn't been released yet, but you may link your Metamask avalanche wallet to get points that will be converted into KCAL tokens upon launch.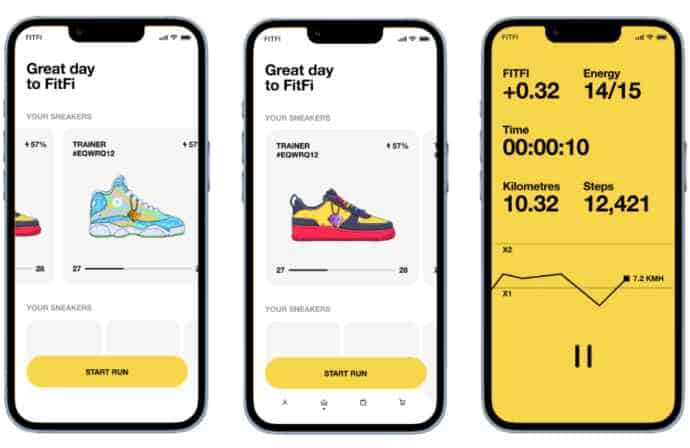 Move to earn Conclusion
In Conclusion, there are many benefits to moving to earn. Not only does it provide an opportunity to monetize our workout time, but it also allows for fresh experiences and a new way to promote a healthier lifestyle.