NFT games are becoming increasingly popular, and it's easy to see why. They offer a unique gaming experience that can't be found anywhere else. In this guide, we will teach you everything you need to know about playing NFT games. We'll cover everything you need to start your play-to-earn journey! So what are you waiting for? Start playing today!
What are blockchain NFT games?
Blockchain or NFT games use non-fungible tokens (NFTs) as the primary gaming asset. Players can use them in a variety of ways within the game. They can be traded, sold, or used to unlock special features or bonuses. Blockchain games reward players with NFTs and cryptocurrencies for their participation. That's why they are also called Play-to-earn games. NFTs are stored on decentralized blockchain ledgers, giving players true ownership of their assets and eliminating third-party use.
The way blockchain games work is relatively simple. Players purchase or earn NFTs within the game and then use them to interact with the game world. Each NFT has unique properties that can be used to enhance the gaming experience. For example, one NFT might give players extra points for every enemy they kill. At the same time, another might unlock a new level or area. Those are just a few examples, but the possibilities are endless, making NFT games so much fun!
What is an NFT?
Non-fungible tokens are unique digital assets that can be used in various ways within the game. They can be traded, sold, or used to unlock special features or bonuses. NFTs are stored on blockchain ledgers, making them impossible to forge or manipulate. They are ideal for representing one-of-a-kind goods or experiences, such as virtual items, event tickets, or collectibles.
How do NFTs work in games?
NFTs are used in games to represent in-game assets. These assets can be anything from weapons and armor to houses and land. In most cases, the ownership of these assets is tracked on a blockchain. This allows players to trade and sell their assets with other players.
What are the benefits of using NFTs?
There are many benefits to using NFTs in games. Some of the key benefits include:
Reduced fraud: Since each NFT is unique, it is impossible to duplicate or counterfeit them. This helps to reduce fraud and protect players' investments.
Increased liquidity: NFTs can be traded on various online platforms, making them more liquid than traditional game assets. This allows players to sell their assets quickly and easily if they need to.
Security: NFTs are stored on blockchain ledgers, making them difficult to hack or steal. This provides a high level of protection for players' assets.
Portability: NFTs can be used in various games and applications, making them highly portable. This gives players the ability to use their assets across various platforms.
What platforms support NFT games?
NFT games are supported by various platforms, including PC, mobile, and console. In addition, many blockchain-based platforms support NFT games. These include the Ethereum network, Solana, Avalanche, WAX, Polygon, and the Binance smart chain. 
Are NFT games free to play? 
The answer depends on the game and the blockchain it operates on. 
Many games require purchasing an NFT or a starter pack to start playing. For example, players who want to participate in tournaments will have to pay entry fees to enter competitions. Or perhaps they need to purchase items from an item shop. In Axie infinity, you will need to purchase three Axies. 22 racing series, you need to buy a pit stop license. In contrast, other games like Gods unchained or crazy defense heroes give you a free welcome set of in-game cards and let you grind your way into earning your NFTs.
The blockchain that the game runs on also plays a part. Moving and claiming items on Ethereum can cost tens to hundreds of dollars while doing the same actions on Polygon, Solana, or Avalanche will only cost a few cents. in contrast, there are no fees on WAX and ImmutableX blockchains.
Can you earn money playing NFT games?
There are many ways to make money while playing blockchain games. Gamers can now monetize their playtime, whether through selling in-game NFTs or completing objectives in return for cryptocurrency rewards. For example, God's unchained holds a weekly tournament where players can earn cards and later sell them on the marketplace. In Town-star, Players can earn Town coins by using NFTs in the game and completing daily challenges.
NFT gaming development cycle
You should be aware that NFT game release cycle is different from what we are used to in mainstream games. Most Blockchain game developers tend to release their Game tokens and NFTs even before they have a working game. They will list their NFTs and conduct a public sale to raise funds for further game development. After the public sale, they will usually release the game in an MVP state. A Minimum Viable Product (MVP) is a product with just enough playability to satisfy early adopters. As the video game continues to develop, game assets and token value may grow, leading video game enthusiasts to view these NFT gaming platforms as investments.
This approach differs from mainstream game development, in which most titles are released in a fully developed form.
What is the difference between NFT games, blockchain games, and play-to-earn (P2E) games?
NFT games are online games that use non-fungible tokens (NFTs) as the primary digital asset. They can be traded, sold, or used to unlock special features or bonuses. Blockchain games use blockchain technology like Ethereum Solana, Avalanche, etc. Play-to-earn games are games where players can earn rewards for playing the game. The games have all three qualities in most cases, making a blockchain game an NFT game and a play-to-earn game.
Where to buy gaming NFTs?
Native Marketplaces
NFTs can be purchased from a variety of sources. Usually, you will find a native NFT marketplace within the game or on the game's website. 
Here is an example of the native NFT market in the game Splinterlands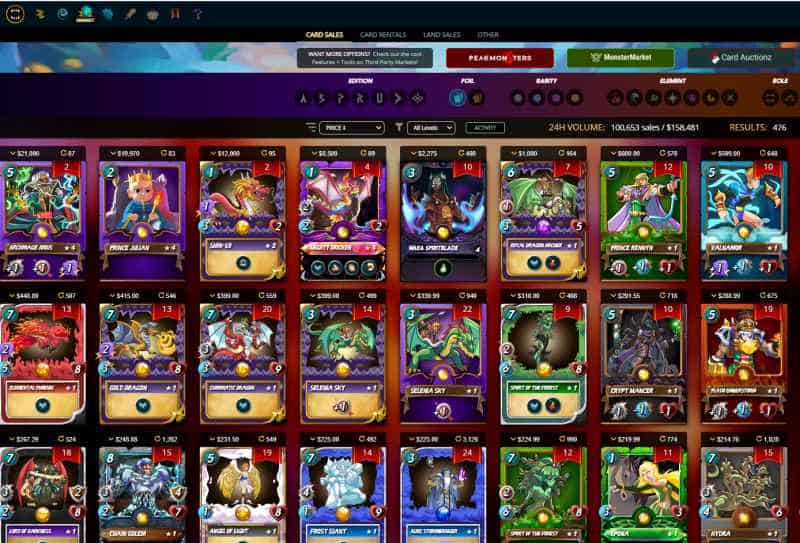 Dedicated Decentralized marketplaces
There are also dedicated NFT markets specializing in trading NFTs for specific blockchains. Popular NFT marketplaces include:
Opensea: Launched in 2017, it is one of the oldest and biggest NFT marketplaces for Ethereum and Polygon. It also has a straightforward process to follow if you're interested in creating your own NFT.
Looksrare is a new competitor to Opensea, which lets users earn LOOKS tokens every time they buy or sell NFTs. Looksrare currently only supports Ethereum NFTs.
ImmutableX marketplace, for games on the ImmutableX blockchain like Guild of guardians and Gods unchained.
Solsea, Solanart, and Magic Eden are NFT marketplaces for Solana NFTs.
Atomic Hub is the official marketplace for WAX NFTs
Kalao Avalanche NFTs
NFTrade supports NFTs on multiple blockchains, Ethereum, Avalanche, Polygon, Binance Smart Chain and moonriver
Ghostmarket, NFTs on the Phantasma blockchain (22 Racing series)
Centralized Marketplaces
You can also purchase NFTs on centralized exchanges like Binance and FTX.
To purchase NFTs, you will need cryptocurrencies to pay for the NFT and a wallet to store it.
What is the difference between NFTs and cryptocurrencies?
Cryptocurrencies are fungible: they may be exchanged or traded for one another and have the same worth. For example, one Ethereum is equal to any other Ethereum. NFTs are non-fungible tokens, which means each one is unique. They are not comparable or interchangeable. Even if they look the same, they will have a different contract on the blockchain.
Example:
How to purchase NFT on opensea
Navigate to opensea.io

Make sure you have enough cryptocurrencies in your wallet to cover the NFT cost and the gas fees (check out the section on how to purchase cryptocurrencies and use the Metamask wallet).

Type the name of the game in the search field and choose the collection. Make sure you are choosing the official collection!

Choose The chain you would like to use using the filter option. Metamask Supports Ethereum, Polygon, and klaytn assets.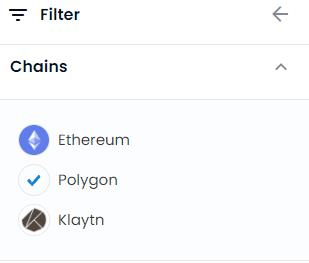 Choose The chain you would like to use using the filter option. Metamask Supports Ethereum, Polygon, and klaytn assets.

Click on the NFT that you want to purchase

select buy now (You can also make a lower offer)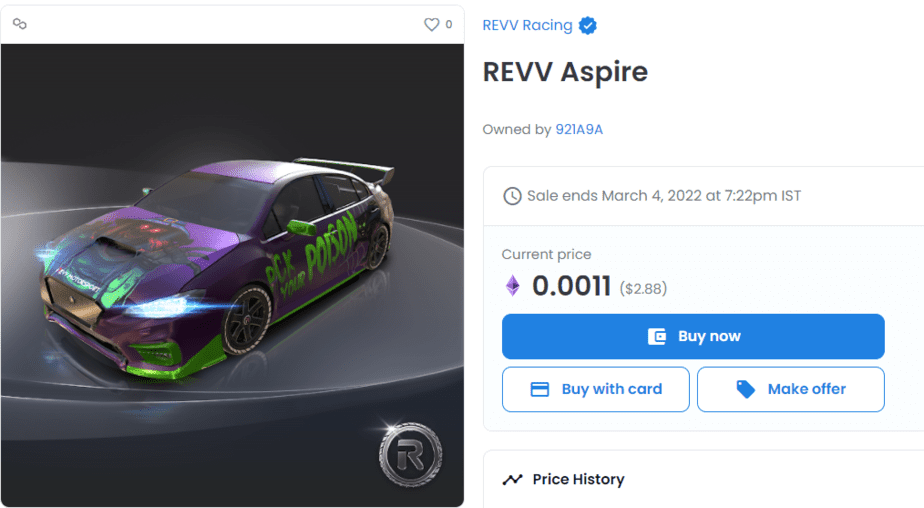 Connect Your Metamask wallet with Opensea and confirm the transaction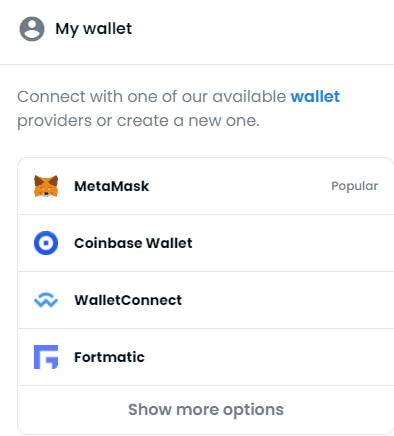 Wait for the transaction to complete. It might take some time until you can see your NFT in your wallet.

To view your NFT, select your profile, and click on my collections. 
How to purchase cryptocurrencies?
Exchanges
There are different ways to purchase cryptocurrencies. The most common way is through a centralized exchange like Binance or Kucoin. These exchanges allow you to buy and sell cryptocurrencies using fiat currency (like USD or EUR) or other currencies.
Bitcoin ATM
Another way to purchase cryptocurrencies is through a Bitcoin ATM. These machines allow you to buy and sell Bitcoin and other cryptocurrencies using cash.
Direct Purchase
Finally, you can also purchase cryptocurrencies directly from other users. This can be done through online marketplaces or classified websites like LocalBitcoins
Cryptocurrency wallets
You will need to store your crypto in a cryptocurrency wallet. These wallets allow you to store your cryptocurrencies in a secure location and access them from anywhere with your private key. There are different wallets, including desktop, mobile, and hardware wallets.
Desktop and mobile wallet
Popular desktop and mobile wallets such as Coinomi Wallet. Atomic and exodus.io are great wallets that allow you to store multiple cryptocurrencies conveniently. While these wallets are great for storing your cryptocurrencies and tokens, they are less suited for gaming.
Hardware wallets
Hardware wallets are the safest way to long-term store large amounts of coins and tokens. They are more secure than other types of wallets because they are offline. This means that people should not be able to hack them and steal their money.
If you're looking for a safe way to store your cryptocurrencies, then you should consider using a hardware wallet. The Ledger Nano and the Trezor. are two recommended and popular options.
Which wallets are best for blockchain games?
Wallets that are best for blockchain games allow you to store your cryptocurrencies and tokens and will enable you to interact with games simultaneously. They're most often downloaded as browser addons.
These wallets are great for storing small amounts of cryptocurrencies for gaming. In contrast, hardware wallets are great for holding more significant amounts of coins and tokens.
Depending on the blockchain the game is built on, you'll need to use the appropriate wallet to interact with it.
Metamask
Metamask is a popular browser add-on that allows you to store and use Ethereum-based tokens. It's great for playing blockchain games built on the Ethereum network. But it can be configured to work with other popular chains such as the Binance Smart Chain, Avalanche, and Polygon. You can also connect Metamask to a hardware wallet.
How to install Metamask?
Navigate to the Metamask download page and follow the video to install the Metamask Addon:
 How to send and receive cryptocurrencies with Metamask
To send and receive cryptocurrencies with Metamask, you'll need the Metamask extension installed in your browser.

Once you have Metamask installed, you can open it by clicking on the fox icon in your browser toolbar.

To send cryptocurrencies to someone, you'll need to know their public wallet address.

Choose the token you want to send under the assets tab

click send and enter the recipient's wallet address and the amount of cryptocurrency you want to send.

double-check the recipient address and Click on the Next button to confirm your transaction. 

In this example we used Polygon and gas fees are very low, but When you're sending or receiving Ethereum with Metamask, it's important to be aware of the gas

fees. The gas fee is the amount of Ethereum that's needed to pay for the transaction. It's used to cover the cost of processing the transaction.
How to set up Metamask with other chains
You can add other chains to metamask by clicking on the network button at the top and choosing add network. You must make sure all the details are accurate. I've Included details for popular chains but I highly recommend to confirm with the the official links for each chain which are also included.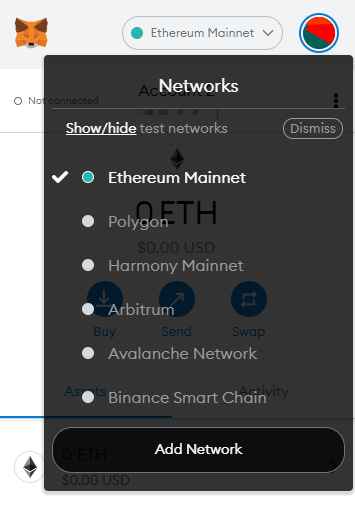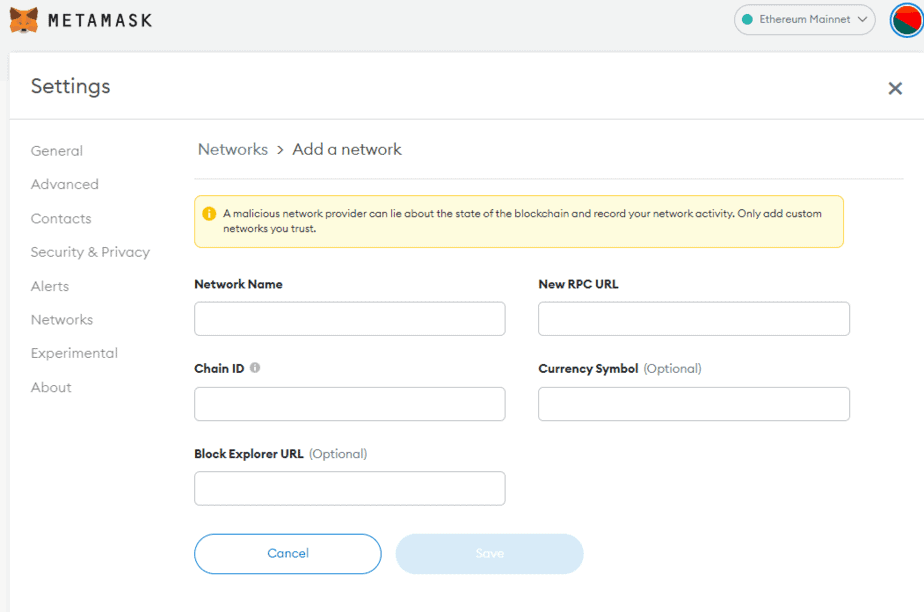 Avalanche
Network Name:
Avalanche Network
New RPC URL:
https://api.avax.network/ext/bc/C/rpc
Block Explorer URL: https://snowtrace.io
Polygon
Network Name:
Polygon Mainnet
New RPC URL:
https://polygon-rpc.com/
Block Explorer URL: https://polygonscan.com/
Binance Smart Chain
Network Name:
Smart Chain
New RPC URL:
https://bsc-dataseed.binance.org/
Block Explorer URL:
https://bscscan.com
*It is highly recommended  to confirm with the official instructions for any changes or updates. also, make a very small deposit first to test.
WAX cloud Wallet
Wax cloud wallet allows you to store, trade, and sell WAX and  WAX-based NFTs. It's great for gamers who want to use their NFTs in gaming applications. The wallet is easy to use and has a built-in exchange that allows you to purchase and WAX and a list of all the popular dapps.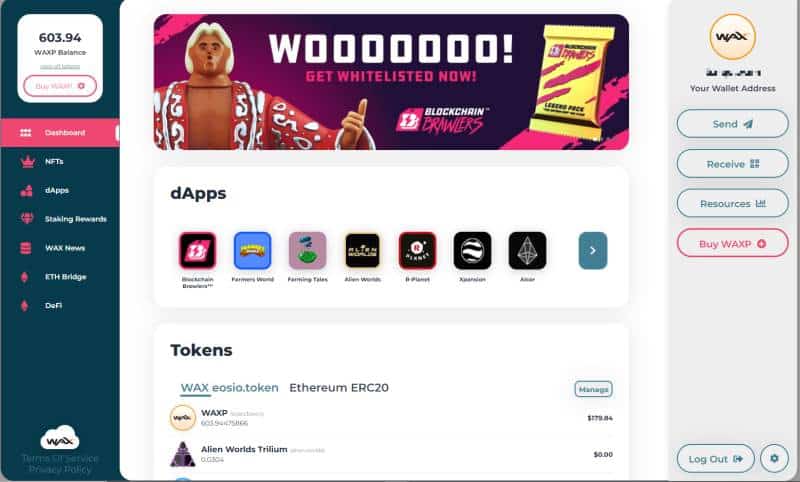 Phantom wallet
Phantom Wallet is a wallet for the Solana blockchain. It allows you to store and use SOL tokens to interact with games built on the Solana network. It's available as a browser extension or as an app for iphone.