Geon app – explore places and earn crypto rewards
In today's modern world, people entertain themselves by watching TV or playing video games in front of the computer. Even when playing on a mobile device, the player loses touch with his surroundings. It's hard to find the motivation to leave the house. Why should people go out and explore when everything they need is indoors or in front of a screen? Geon is a mobile application that incentivizes people to reach intended destinations in the form of a crypto game. It allows them to earn crypto rewards when reaching those locations. Those crypto rewards come in the form of Geon coins. You can  use the coins to purchase real products, such as gift cards, Steam game keys, Netflix vouchers, and more. The Geon app is free and available on both the Apple App Store and Google Play.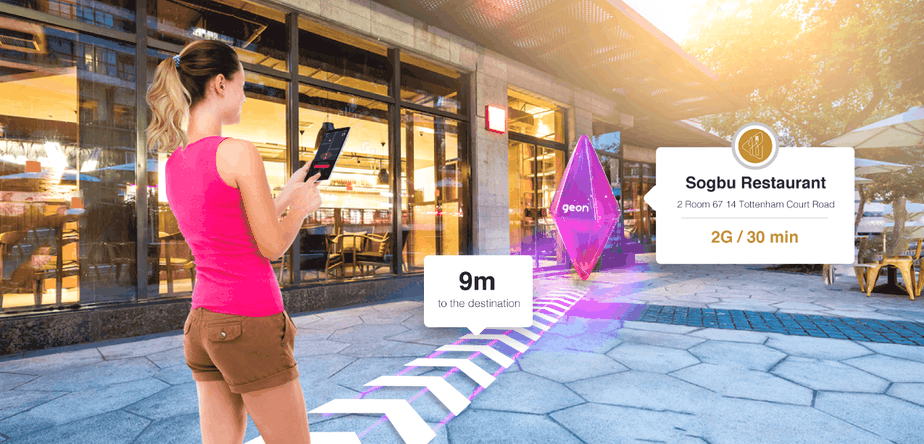 Augmented reality
The Geon Network scatters over a million Geon coins by geo-positioning them on the map around the world. To collect these coins, people need to physically navigate to those destinations and use the Geon app on their mobile devices to obtain the reward. It is an interactive experience where virtual objects interact with the real-world environment. The popular game, Pokemon Go, is utilizing the same technology.
How does it work?
Besides earning cryptocurrencies for visiting new places, users can utilize the app to promote their businesses. The application allows them to create virtual beacons called Geons, and Geons can hold minable coins. The coins have value and serve as crypto rewards, which can attract traffic to a specific location. Users can experience and see the Geon beacon in augmented reality using their mobile devices.
There are two types of customizable beacons: one for coins and one for messages. Message Geons can be used for discount codes, hidden messages, or clues for a treasure hunt game. Geons with coins can reward people who arrive at a specific destination and meet the conditions.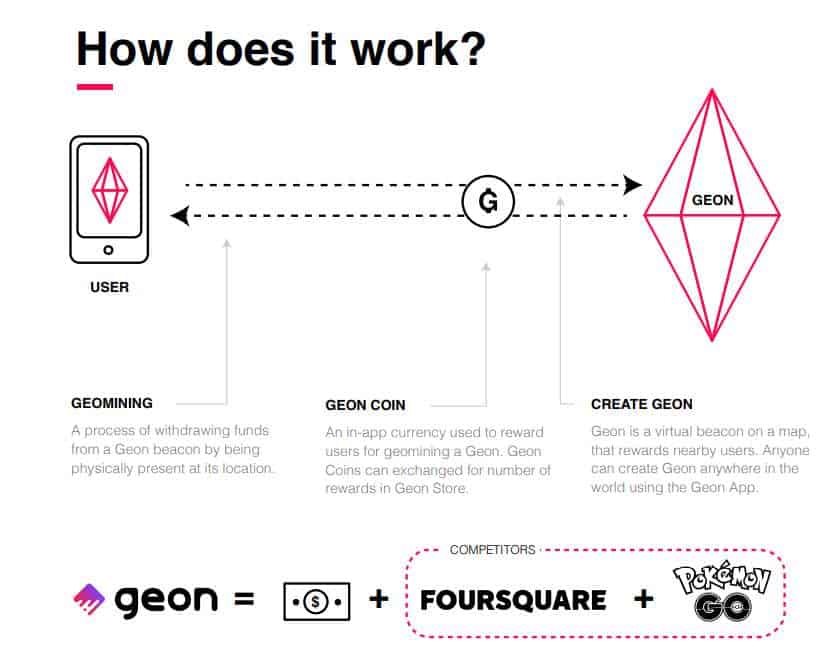 Use Cases
The Geon app has many use cases. Business owners can place Geons next to their shops or restaurants to promote their business. Friends can set up a treasure hunt. The app can be used as proof that someone visited a specific location. These are just a few examples. 
Geon beacons are customizable. They can be active only on certain days and hours and can be set to expire after a certain amount of time. If you want your audience to stay for a minimum amount of time at a specified location during a given time range, a condition can be set. Only those who meet this condition can earn crypto rewards. You can also add a photo and a description to display on the map. 
Geon Economy
Geon token (GT) is a publicly-traded token utilized within the Geon Network. Users can utilize these tokens to receive discounts and unlock access to extra features. Users can also stake Geon token in the app and receive Geon coins as a reward. Geon tokens are not integrated into the app yet.
Geon coin (GC) is an in-app value carrier that users can mine, or buy using fiat currency.  They can use the coin to purchase items in the Geon Store or to top-up a Geon beacon.

Conclusion
Geon has the potential to become more than just a crypto game or a Pokemon Go on the blockchain. The Geon beacons can be customized for many use cases. Only some of them were mentioned in the review. The augmented reality experience is fun but might get repetitive over time. 
We are in an early stage of the product, according to the white paper, and more ambitious features and upgrades are coming. Those will include the Geon economy, to integrate the Geon tokens and the staking mechanism to the application, and real-world Geons to improve location verification and improvements of the gaming features.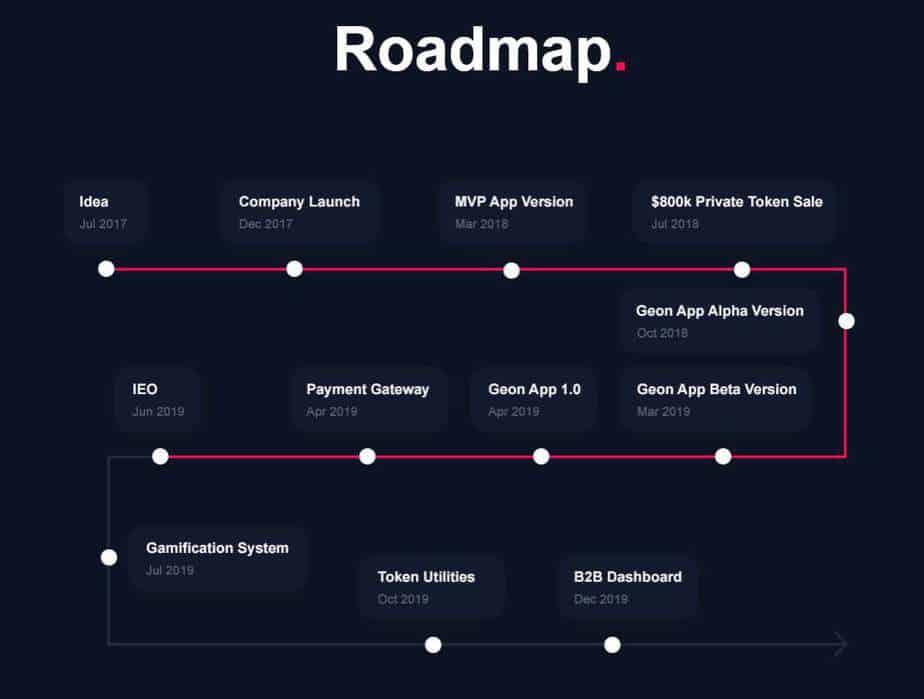 Geon
Genre
Augmented reality
Blockchain
POA
Developer
Geon Network
Platforms
Android,IOS
THE GOOD
Earn cryptocurrencies for visiting new places.

Use cases goes beyond gaming.
Allows you to Create your own Geons
developmTHE BAD
Augmented reality experience becomes repetitive.

Gift store is sold out and out of date for months

Low development and social media activity (2021)