Getting Bitcoin and Cryptocurrencies to play crypto games
Many crypto games will let you get started and play for free, but you will probably want to purchase some cryptocurrencies to enjoy some advanced game features or to acquire in-game assets. This guide will get you started with the necessary steps to play crypto games.
Bitcoin ATMs 
Bitcoin ATMs work like a regular ATM, except they allow you to deposit and withdrawal money so that you can buy and sell bitcoin. Coin ATM Radar has an interactive map to help you find the closest bitcoin ATM near you.
Exchanges
Blockchain games may use Different cryptocurrencies Such as Ethereum or EOS rather than Bitcoin.
You can buy and exchange Bitcoin to other cryptocurrencies using a reputable exchange like Binance.
Store Bitcoin and cryptocurrencies securely
To store your valuable cryptocurrencies we recommend using a tiered approach:
Do not store all your crypto in one place: Use a separate smaller desktop, mobile, or add-on wallets for playing games and using decentralized applications. And use a different secure hardware wallet such as the Ledger Nano S or the Ledger Nano X to store larger amounts of Bitcoin and cryptocurrencies. 
Setup a Blockchain to browser bridge to interact with blockchain games
A Blockchain to browser bridge is a browser add-on or a standalone application that acts as a wallet and lets you interact with blockchain games. You will use the bridge to send or receive tokens, sign transactions, and store your digital assets. There is a separate bridge or wallet for every blockchain and there can be different ones for PC or mobile. Here, I am listing popular Blockchain to browser bridges most commonly used with PC browsers:

Ethereum games use Metamask
Wax uses the Wax cloud wallet
Tron games use Tronlink
Eos games most commonly use Scatter and Wombat
Metamask
MetaMask is a browser extension that allows you to run Decentralized applications on the Ethereum Blockchain. It has the largest number of supported games. Use Metamask to play Ethereum based games and store your  tokens and digital assets. When you first install and setup Metamask, a free Ethereum account is opened for you.
How to send and receive tokens with your cryptocurrency wallet
A Cryptocurrency account is made up of a private key and a public key. The private key can be 12 words or a string of characters, for example:
41750131C1D5D80611E3BEA736D6D70D1A3B8E275078E192EFF57A
You can't change your private key, and if anyone gains access to it, he can steal your tokens and crypto-assets. The public key is the address you give out to receive tokens. Some wallets generate a new address after each transaction. Public key example:
0x5538444645aD7C24332386F3DAA3099652b09765
Never share your private key with anyone. Your public key is your wallet address and is the one you share with others to receive tokens and assets. I recommend going over the following articles to learn how to view and send/deposit tokens with your MetaMask Wallet:
Example video on How to Buy Gods unchained cards with Metamask:
Wax cloud wallet
Wax cloud wallet is probably the easiest bridge to use, but only a few games currently use WAX. You can login with your social media accounts (Google, Facebook, Steam. etc) with no extra setup. Everything else is done for you behind the scenes.
Tronlink
Similar to Metamask, Tronlink is a browser extension that lets you run Decentralized applications on the Tron Blockchain. Tron is more popular with gambling apps than with games.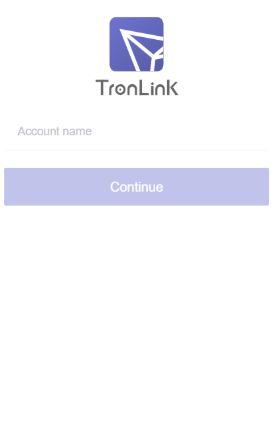 Create Account and set the Account name. Then set up the password and repeat the password.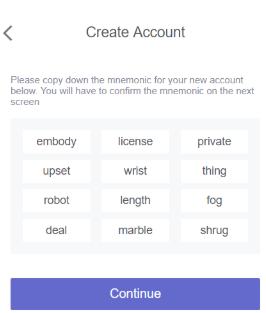 Carefully write down the private key mnemonics and keep it safe.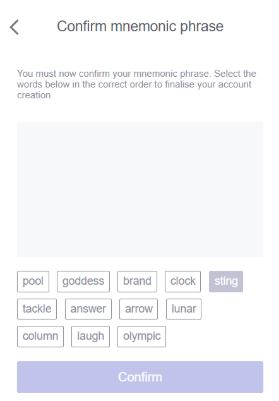 Input the phrases in the correct order. Once complete you will have a tron wallet and you will be able to start using TronLink.

Wombat
Wombat is a user friendly addon to Google chrome that lets you interact with the EOS blockchain, it is also availabe for android and IOS. Setting up an EOS account with Wombat is free:
Install wombat addon
Sign in using one of your social accounts (Google, Facebook or Twitter)
Back up your keys on Google drive or on Dropbox
Set up a PIN
Create an EOS account name
Scatter
Scatter is a dedicated desktop application that lets you interact with the EOS blockchain. Setting up an EOS scatter account is not free, but with scatter you dont have to use your social accounts:
Purchase an EOS account using eos-account-creator.com (recommended by Scatter). You can follow the instructions on their website and pay with a credit card or with cryptocurrencies.
Once you have an EOS account,  import your private keys to scatter.