Multiplayer RPG crypto game from Japan
My Crypto Heroes (also known as MCH or Mikuri in Japan) is an online multiplayer RPG that takes place in a parallel universe and features famous historical characters. The game has a few thousands of daily players and is one of the most popular RPG crypto games on the Ethereum blockchain and the entire crypto space.
You can trial the game for free with your Google account, but to buy and keep your crypto heroes and assets, you will need to connect your Ethereum account using metamask. Each MCH item and hero belongs to you. You can freely trade those items outside of the game and even make use of them in other games.

The Heroes 
Players get three teams of three heroes, and your goal is to level up your heroes through quests and join the player vs. player battles to conquer the MCH world. You can also equip your heroes with armor and weapons. You start with free generic heroes (warrior, tactician, and an artist) that you can use to get acquainted with the game. If you like the game, You can later decide to purchase a historical hero. Historical heroes are based on historical characters from the real world. They have an original pixel art design and are tradable in the Ethereum network (NFTs). 
It is important to understand the different hero types because not all heroes are NFTs, which means some of them are not valuable crypto assets.
Novice Heroes are in-game heroes, which you will not be able to sell and transfer on the Ethereum Network.
Rep. Heroes or Replica heroes will expire after seven days from the first use.
Heroes or Historical Heroes are valuable NFTs, which you can trade or sell on the Ethereum network. Historical Heroes come in different levels: common, uncommon rare, epic, and legendary, where legendary heroes are most valuable. 
You can micro-manage your party and arrange their fighting order. Change each hero's attack combinations and equip them with weapons.
Gameplay – NPC battles
Once you've assembled your heroes, you're ready to get started. The Quest tab is where most of the action happens. It's where you will send your heroes to nodes, which are the game's dungeons. Each node has different monsters and loot. It also has a difficulty level that's linked to the amount of stamina it will take from your heroes. Higher nodes will reward your heroes with better items and more Crypto Energy (CE), which are experience points to level them up. Nodes have versions, which means that they update over time. Whenever a Node changes, the extension drops change as well.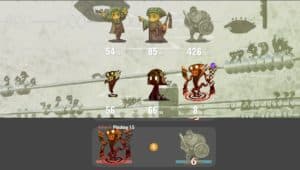 The battle plays automatically and is calculated based on your heroes' attributes and extensions etc. You can watch it unfold by scrolling down, move by move, or you can skip and watch the outcome right away. The final battle has a powerful boss monster that will drop the loot when you kill it. 
Factions and Player vs. Player Battles
Players have an option to join communities in the Land tab. There are currently nine land factions, each of which engages in land Battles, weekly raids, and Weekly cups. Each faction also has its Discord channel. There's a lot more depth to the land system, and We are including links for more MCH resources:
The Economics of the Game
GUM is a purely in-game currency that players can exchange for Ethereum. Use it to purchase heroes or extensions at the shop or to recover stamina. 1000 GUM is worth 0.1 ETH.
Open Trade
Heroes and Extensions can be traded within the game for GUM or on external platforms like OpenSea for ETH. 
Serious MCH gamers can buy a monthly prime membership and save money on heroes and items in the long run.

conclusion
My Crypto Heroes is one of the top-rated Ethereum games, and it has an extensive community, especially in Japan. The game might not look very impressive at first, especially when compared to modern RPGs. Still, if you give it a chance, you will find the mechanics behind it is quite interesting and complex. The game is continuously being improved and updated. MCH might not be a game for everyone, once you give it a try, you will either love it or hate it.
My Crypto Heroes
Genre
Multiplayer RPG
Blockchain
Ethereum
Developer
double jump.tokyo
Platforms
PC, Browser, Mobile, Android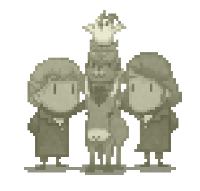 Use the following code for a free Brother grimm replica hero:
TrWw 
 THE GOOD
Free play 
Nice pixel art design
Large community and active development
THE BAD
Confusing gameplay
NFT heroes can be expensive