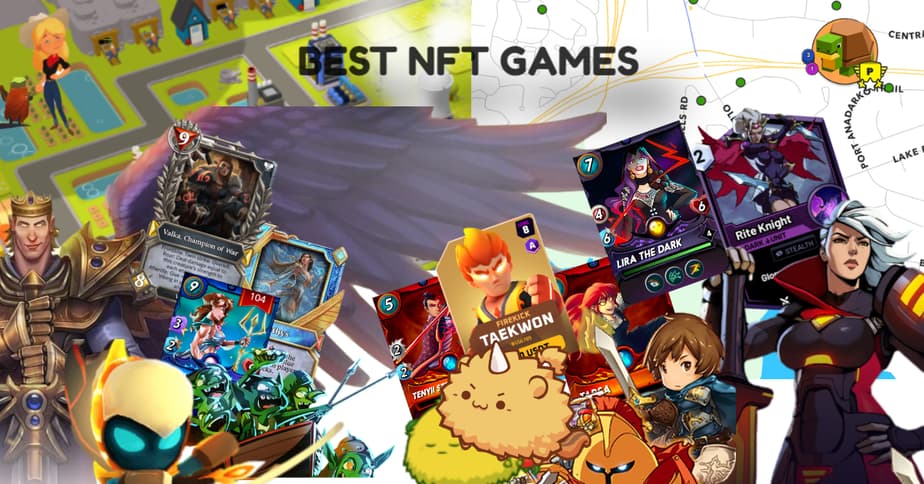 NFTs were brought to the mainstream media after the release of CryptoKitties in 2017. Since then, this genre of NFT and Metaverse games has taken off and shows no signs of slowing down. Our list contains NFT games you can start playing right now, including some underrated gems you may not have heard of yet.
At Blockchaingames.fun we are constantly researching, playing, and reviewing blockchain P2E games. This makes it easy for us to bring you an original list of the best NFT games and the most popular crypto Metaverse games:
If you are just stating out and want  to learn more about NFTs, Metaverse, and  NFT games , head over to our NFT game Guide where you can start your play-to-earn journey.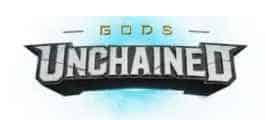 Gods Unchained
Gods Unchained is a PVP fantasy trading card game. The gameplay is very similar to Hearthstone. Cards represent creatures, relics, and spells you utilize to fight for victory. To achieve this, you must reduce your opponent's Health to zero. This can be done by using your card's abilities to deal damage and cast spells. 
The game utilizes a ranked game mode to ensure that players with the same ratings are matched. This way, players compete against opponents of similar skill levels, making for a more enjoyable and fair gaming experience.
Gods unchained is ranked as a top game in our trading cards category list
Gods unchained NFTs and cryptocurrencies
Each season the game developers release limited sets of cards themed around an event or a topic. They are divided into creatures, spells, and relics that you can use in the game, divided into different rarities. You can acquire cards on the platform's native NFT marketplace or on secondary marketplaces. Game assets are stored on ImmutableX, a layer 2 scaling solution for NFTs on Ethereum. One of its advantages is the absence of gas fees. 
The GODS token is the core currency of gods unchained that players can use to craft new NFTs, purchase Items on the marketplace, and vote on governance issues. Star is an in-game currency that players earn by winning matches. Stars can be used to buy cards, but they cannot be transferred out of the game. 
Is Gods Unchained free to play?
Yes. You will receive a free welcome set of cards that you can start playing with. You can use the welcome set and grind your way into earning more valuable cards and stars. To play Gods Unchained, you will need to download and install it on windows.
How to earn in gods unchained?
The primary method to earn money in gods unchained is to acquire and sell NFTs on the marketplace:
You can play and win matches to earn core cards. Core cards are not NFTs, but you can fuse several core cards together, using GODS tokens to create tradable NFT cards.

Earn the in-game currency (Stars) and use it to purchase NFT cards.

Every weekend, there is an event where players can compete against each other and win in-game base cards and NFT expansion cards.

Players can earn the GODS token when playing with NFT cards and winning matches. (You can earn more with higher shine cards like gold and diamond)

Skyweaver
Skyweaver is a competitive trading card game, the game mechanics are somewhat similar to Hearthstone and Gods unchained, but Skyweaver is unique in its own way. You control a hero and battle an opponent using cards summoned to the playing field. Cards represent spells, enchantments, and monster units with a goal to deplete your enemy's life.
Skyweaver NFTs
Skyweaver doesn't have a token, and the game currency is USDC on Polygon. Silver and gold cards are two types of NFTs in the game. Silver cards are more common NFTs because there is no limit to the number of silver cards that can be minted. Gold cards are rare NFTs with a limited supply. 
Is Skyweaver free to play?
Yes. There are over 500 free base cards (non-NFT) that you can unlock and play with. There is also a discovery mode for players to compete against each other with a random deck. The game is available for almost every available platform. Browser, Windows, Linux, Android, and IOS.
How to earn in Skyweaver
Skyweaver doesn't have a token, and players can only earn from winning silver or gold NFTs and selling them on the marketplace.
Ranked rewards: 

Top 250 players in either constructed or discovery modes earn gold and silver cards according to their rank. 

Conquest mode:

 Players compete in a series of 3 games and earn silver and gold cards based on their performance. You have to pay an entry fee of 1.5 USDC or one silver card. Once you lose a match, your conquest will be over, and you will have to start over and pay another entrance fee.
Splinterlands
Splinterlands is a popular idle Blockchain trading card game focusing on strategy and deck building. Players are matched against a similarly rated opponent and given a set of predefined battle parameters. Players have a limited amount of time to create a team consisting of a Summoner card up to six Monster cards. When both players finish creating their teams, the battle will begin and play out automatically. The first team to kill all the Monsters on the opposing squad wins the match.
Is Splinterlands free to play?
Yes. You try out Splinterlands for free, giving you a chance to learn the mechanics before buying it. But to participate in tournaments and open play-to-earn features, you will need to purchase a $10 starter pack. Splinterlands is playable on the Internet browser and android through the play store.
Splinterland NFTs and tokens
Splinterlands is built on the Hive blockchain, but the game works with other blockchains. You can move your cards to an Ethereum or a WAX wallet, and Game tokens can be transferred across multiple blockchains, mainly Binance smart chain. You have a few options to buy and sell the Splinterlands NFT cards. First, there's the proprietary market within the game. But you can also get cards on secondary markets like Atomic hub on WAX. 
Splitnerland currencies
DEC

 (Dark Energy Crystals) tokens are reward tokens that are earned from Ranked Battles. You can trade DEC outside the game.

SPS

 is a governance token. Players can stake SPS to earn interest. Splinterlands will offer promotions with staked SPS to encourage players to hold and stake SPS tokens as much as possible.

Credits are not on the blockchain. Players can buy Credits with Fiat money and use them to buy items within the game. You can't transfer credits out of the game.
How to earn money in Splinterlands?
You can earn rewards and tokens by winning ranked PVP matches and then sell them on the marketplace:
Players in the Bronze 2 league and higher start earning Dark energy crystal tokens for winning matches.

Earn reward chests by either completing the Daily Quest or finishing a season and receiving End of Season rewards. Reward chests can contain valuable items such as Cards, potions, DEC tokens, etc.

For the next few months, players who hold NFTs and DEC tokens in their accounts receive a daily airdrop of SPS tokens (proportional to their assets).

Town star
Town Star is a competitive farm simulator strategy game similar to Farmville. The game's objective is to build the most efficient and profitable town. You will need to produce and combine resources to make and sell products for money. The gameplay seems very simple at first, as you build a small production line by placing some houses and crop fields or animal ranches. But as the game progresses, it moves from being a small-time operation to larger-scale industrial production, which is more profitable and much harder to manage.
Town star is a top game in our Strategy NFT games category list.
Town star NFTs and Tokens
Town star NFTs provide their owner advantages such as completing jobs faster or making extra storage. You will also need at least one NFT to activate play-to-earn features.
The easiest way to purchase NFTs is through the Gala games native platform, you can use different currencies as payment, but you will need to cover network fees with ETH. Sold-out NFTs might be available on secondary markets like Opensea or Looksrare.
TOWN is an ERC-20 token on  Ethereum. Holding Towncoin increases your Gala power, which lets you place more NFTs in the game.
Is town star free to play?
Yes but you can't earn. You must place an NFT in your town to earn TOWN token rewards. Town  Town star is part of the Gala games ecosystem and is playable from the web browser on PC and mobile devices. 
How to earn money in town star
Players can earn daily Town token rewards by placing NFT items in their town and completing game objectives.

A weekly competition where the best players who made the most profit receive Gala token rewards.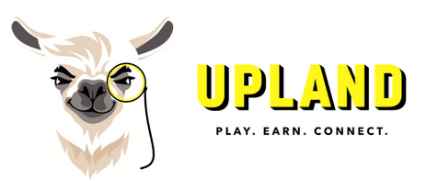 Upland
Upland is a virtual property trading game. Players buy, collect, sell, and trade virtual property based on real-world addresses. The gameplay shares some similarities to Monopoly. You can mint new properties or buy them directly from other players and then collect rent in UPX tokens or sell it for profit. 
Upland NFTs and currencies
Virtual Properties are minted on the EOS blockchain and are mapped to real addresses on the world map. Upland doesn't have a cryptocurrency token. UPX is an in-game currency and can only be traded inside upland, but players can purchase NFTs with UPX and then sell those NFTs for USD. 
Upland partnered with the NFLA to offer Football NFTs, which can be purchased on upland virtual stadiums. Those NFT sets are called "Legits" and are designed to bring brands like sports clubs, athletes, and artists to the upland universe.
Is upland free to play?
Yes. You will receive some UPX to start with, allowing you to purchase a property. As a new player or a "visitor," You will need to actively log in and renew your Upland visa every week until you accumulate enough assets to reach an Uplander status. Upland is playable on the web browser, Android and IOS.
How to earn money in upland
Earn UPX to purchase properties by completing collections, hunting for treasure, renting and flipping properties for profit. Upland properties also earn a %14.7 (yearly) yield.

Players have an option to sell their properties for USD in the native  NFT marketplace.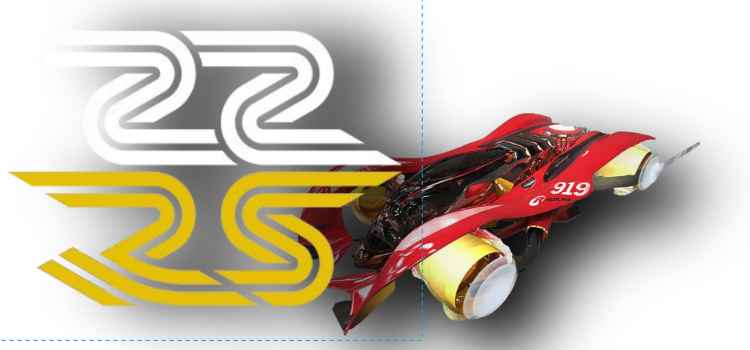 22 Racing Series
22 Racing Series is a strategic racing game featuring 360 degrees tracks in a futuristic setting. You collect resources in the race and spend them customizing your vehicle on the track to adapt to changing racing conditions. 
22 Racing is a top game in our Car racing NFT games category list.
22 Racing Series NFTs and currencies
NFTs integrate with the Phantasma blockchain. You can purchase racing car NFTs by participating in an auction on the Pavillion platform or from the secondary market on phantasma. SOUL and Goat are the main currencies on the Pavilion platform, where SOUL is the token for the Phantasma blockchain, and Goat is an in-game currency pegged to the $.
Is 22 Racing series free?
No, You can trial the game for $1.5, and you must purchase a $50 (transferrable) license to unlock the full game. The game is available for the PC on the Pavillion platform for Windows. It supports game controllers and VR devices such as the oculus quest. 
How to earn in 22RacingSeries?
22 Racing Series is in the Alpha stage, and Play-to-earn elements are very minimal at this point. You can earn prizes in occasional tournament events. In the future, you will be able to race for car parts.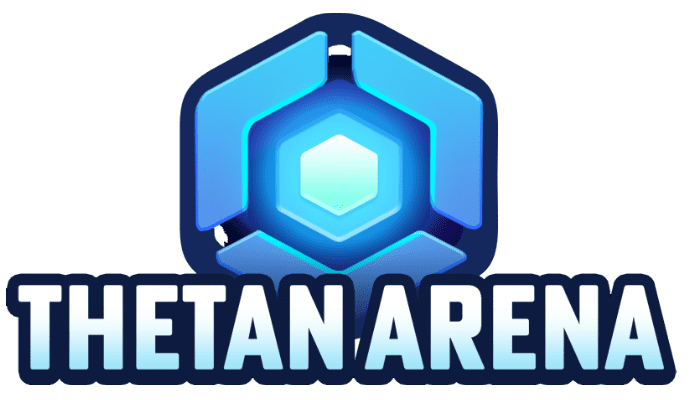 Thetan Arena
Thetan arena is a MOBA e-sport game where you control heroes that fight against each other in real-time arena battles. It offers different gaming modes:                                                                                                                                                                                                                        Deathmatch – The team that eliminates the most players before the time runs out wins.
Tower siege – 

Players collect batteries to summon a siege robot to attack and destroy the opposing team tower.

Super Star

 – The team that collects the most stars wins

Battle-royale – 

the last hero or team to survive wins.
Thetan Arena NFTs and currencies
The main in-game currency is the Thetan Coin (THC), which players earn by playing and winning matches. They can then use it to purchase NFTs or the Thetan Box.
Thetan Gem (THG) is a utility and governance token that players can use to stake for rewards.
Power points (PP) are in-game points used to upgrade your heroes' abilities.
NFTs come as Heroes in different rarities. Each hero belongs to a class (assassin, marksman, tank) and has different strengths and skills. Furthermore, each hero has a limited lifecycle, which means it has a limited number of matches in which it can be used to earn rewards.
Is thetan arena free to play?
Yes. You will be provided with three free standard heroes when you sign up (one for each class). You can use them to play the game, Rank up and earn token rewards. The game is available for Android, IOS and PC
How to earn money in Thetan arena
Ranking rewards

  Both your free heroes and NFT heroes will earn THC upon ranking up.

Battle rewards

 only NFT heroes get gTHC battle rewards for every match. 

Special events

 like the 

Thetan tournament

 where players competed and earned THG rewards.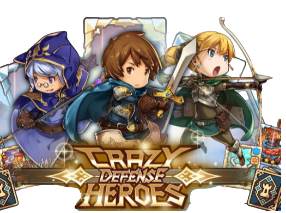 Crazy Defense Heroes
Crazy Defense Heroes is a top view, strategic tower defense game for mobile devices. Your goal is to place your heroes and towers on the map to defend your kingdom against hoards of enemies. There are hundreds of levels, different difficulty settings, and various spells, towers, and upgrades that make the game fun to play. 
Crazy defense heroes tokens and NFTs
The TOWER token is the official cryptocurrency for Crazy Defense Heroes and Crazy Kings. TOWER is available on Ethereum, Polygon, and Binance-smart-chain. TOWER can be used to purchase NFTs, access certain gameplay modes, and for governance.
There are other in-game currencies, such as gold and crystals, that you can use to purchase in-game items and upgrades, but they are not tradable outside the game.
Tower Map is an NFT  that will give you access to new levels and exclusive Game Maps. It will also boost your in-game rewards. You can trade Tower map NFTs on opensea under the polygon chain.
Is crazy defense heroes free to play?
Yes. You can start playing and earning TOWER tokens without an initial investment. The game is  available on android and IOS.
How to earn tokens and NFTs playing crazy defense heroes?
After playing on the app on your mobile device, You can claim your TOWER tokens on the official website. There are a number of ways you can earn TOWER tokens and NFTs:
Earn experience points in the game and get a monthly share from an allocated TOWER reward pool. You will need to reach a minimum amount of XP to be eligible. Look at this table for an example of the latest march\april rewards.

Daily chest rewards for completing stages.

Participating in special events. Events are advertised on the official website.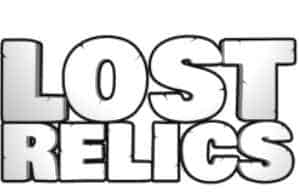 Lost Relics
Lost relics is an action RPG game. It is very similar to Diablo, with the addition of NFTs backed by the Enjin blockchain. Your character explore dungeons fights monsters and collect loot. In addition you can develop skills and craft items to sell on the market. 
Lost Relics is a top game in our RPG NFT games category list.
Is Lost relics free to play?
Yes. You can play for free and earn rewards as you progress. Alternatively, you can take one step forward and attain additional rewards and advance faster by buying a power pendant (membership). You can download the game and play it on windows.
How to earn rewards in lost relics?
Lost relics currently don't have a token, but you can earn valuable NFTs and sell them on the marketplace.
You can randomly find valuable NFTs which can be sold on the marketplace (Royal Emporium)

collect in-game gold coins and use them to purchase game items, including NFTs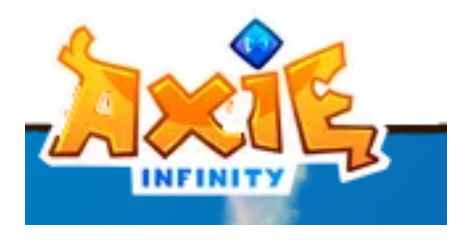 Axie Infinity
Axie Infinity is a breeding collectible game with a card battle system. The battle is a turn-based card game with the goal of eliminating the opposing team. Axies battle each other in groups of three Axies using placement strategies and ability cards that determine their attack moves. Each Axie has different traits which determine their role in the battle and a class that defines its advantages and weaknesses over other Axie classes.
Axie Infinity NFTs and tokens
Axie infinity uses the Ronin Blockchain, a layer 2 solution to Ethereum's high gas fees. 
AXS: Axie Infinity Shards are ERC-20 (Ethereum) governance tokens that can be staked for rewards and voting decisions. AXS is also accepted as currency in the Axie NFT marketplace. Breeding an Axie costs AXS and SLP
SLP: Small Love Potions are mainly used for breeding and can be earned in PVP battles
Land plot NFTs (future development) – The Axie homeland will be divided into plots that will serve as a base for your axies. Land plots will spawn resources and AXS tokens that can be used to upgrade your base and your axies.
Is Axie infinity free to play?
You need to purchase three axies to start playing the game, so the game is not free to play. But soon, with the launch of the Axie Origin update, you will be able to use free starter monsters and start playing for free. Axie Infinity is available for Windows Mac, Android and IOS.
How to earn in Axie infinity?
Earn SLP through the arena: Winning PVP Arena matches can earn you SLP for each victory. The amount of SLP you can earn depends on your Match Making Ranking.
Breed Axies to sell on the marketplace:  You will need two axies where each Axie can breed up to 7 times. Breeding costs both AXS and SLP. Your goal is to produce a powerful and profitable Axie, so breeding requires some research into Axie genetics and Axie classes. 
NFT land plots and items are upcoming new features in Axie infinity that will enable new ways to earn in Axie infinity.
What are the best playable Metaverse Games?

The Sandbox Metaverse
The Sandbox is a virtual open-world voxel metaverse that allows players to build and monetize their gaming experience using NFTs. It provides landowners with tools to create content with no coding requirements. Many well-known names like Atari, Adidas, and Snoop Dog have partnered and secured land on the sandbox metaverse, so we should expect to see professional content and player-generated content. Players that enter the Metaverse will be able to travel between lands and participate in different games and experiences. 
Sandbox NFTs and tokens
LAND NFTs are built on the Ethereum blockchain.SAND tokens are available on Ethereum and Polygon.
LAND: NFT is a virtual real estate in the Sandbox that players can buy. LAND owners can generate content and build games on their properties using tools like the game maker and the voxel editor.
SAND: the SAND token is the official currency in the Sandbox metaverse and can be used to purchase items and LAND on the marketplace.
ASSET: "ASSETs" are player-generated NFTs such as NPCs, equipment, wearables, etc. 
Is The Sandbox game free to play?
Sandbox game is currently in the Alpha stage, and content is limited, but you can open an account and download and experience the game for free. The game is available for Windows and macOS.
How to earn in the Sandbox game?
Players can complete quests for a chance to earn SAND rewards. 

Create NFT assets and sell them on the marketplace. You can create 3D Items with the VoxEdit software.

LAND owners will be able to earn income by rent, by placing ads on their land, or by creating profitable games.

You can stake SAND tokens on Ethereum and polygon on the sandbox platform staking dashboard. In the future, you will be able to stake LAND as well.
Decentraland Metaverse
Decentraland was the first decentralized metaverse project to launch on blockchain technology. Similar to Sandbox. It is a virtual reality space where players can monetize content and use their avatars to travel between areas and engage in activities.
Decentraland NFTs and tokens
All tokens and NFTs on Decentraland are built on the Ethereum blockchain.
MANA is the official token in Decentraland. Players can use it to purchase land and exchange it for other goods in the Metaverse.
LAND is divided into 16m x 16m virtual real estate parcels and can be purchased as NFTs in the marketplace. Owners can create content on top of their land and monetize it.
Is Decentraland free to play
Yes. You can create a free Avatar and explore the metaverse for free. Dcentraland is playable from the web browser and has been recently released for Windows.
How to earn in Decentraland?
LAND owners can use the Decentraland 

builder 

and the 

Software developer Kit

 to create content and monetize it.

Players can design clothes and accessories to customize the avatar's appearance and then sell them on the marketplace as wearables.
What are Metaverse Games?
A metaverse is a virtual world that allows players to play and interact with each other in a three-dimensional virtual open universe on the internet. Metaverse games are somewhat similar to massively multiplayer online (MMO) games but have a few distinct differences:
Metaverse is not necessarily a game. It can include multiple applications and games that allow users to explore, socialize, and create.
Thus players are not bound to the game narrative and can generate their own content. The Metaverse is often associated with blockchain technology. Players in the Metaverse can own (NFT) properties and items with real-world value. It is also expected that future interaction will be through Virtual Reality or Augmented Reality.
What are NFTs?
Non-Fungible Tokens (NFTs) are unique digital assets that can be traded on decentralized marketplaces. Unlike traditional cryptocurrency tokens like Bitcoin or Ethereum, NFTs are not identical or interchangeable, and each NFT has a unique identity. NFTs are suited to represent unique items or experiences, such as virtual goods, tickets to events, or collectibles. Because they are stored on blockchain-based platforms, NFTs can be securely traded and verified without needing a third party.
What are NFT games? 
NFT games, also referred to as blockchain games or play-to-earn games, are video games that reward players with cryptocurrency tokens or NFTs for their in-game efforts. The use of cryptocurrencies and NFTs differentiates them from mainstream games. Players can use their tokens and NFTs outside the game world and sell or exchange them for Bitcoin and other cryptocurrencies. Additionally, many NFT games offer unique and exclusive game NFTs that cannot be found anywhere else.
NFTs are often used in gaming because they can represent specific in-game items (heroes, weapons, land, cards, skins, etc.) This can add another dimension to the game experience because players can earn rewards that have a real value within the game and outside of it. Blockchain technology is used to create and manage those NFTs.
Players have several ways to obtain and claim valuable assets for their games. They can use a process of breeding new characters, purchase digital items on marketplaces like Opensea, or earn them while playing the games.
How can I start playing NFT games? 
Our comprehensive NFT games Guide covers everything you need to start playing NFT games and will give you the information you need to interact with the games using all the popular blockchains.
Where can I find more NFT games?